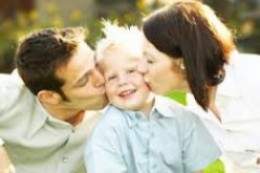 Children in small families(1-2 children per household) are generally happier & more well-adjusted than their counterparts in large families(6-more children per household) in that the former receive more & individualized parental attention while their counterparts receive little or no parental attention. In small families, parents raise children while in large families, children are left to their own devices.

There is less socioeconomic stress in small families than there is in large families. Children in small families have more than the rudiments, it is not unusual that they also have amenities whereas children in large families oftentimes have to do w/o even the basic rudiments. It is not usual for children in large families to be malnourished & have little/no medical care. Parents in small families do not have to worry about stretching monies whereas that is the primary worry of parents in large families. Because of such stress, children in large families are oftentimes in quite precarious socioeconomic situations.

Children in small families are allowed, even encouraged to have a childhood/adolescence. In small families, oldest children aren't pushed to grow up & raise younger siblings whereas in large families, oldest children have to forfeit their childhood/adolescence to be parents to younger siblings. They are pushed to grow up by assuming the brunt of the familial responsibilities. Oldest children in large families are parentified children.

Children in large families, as soon as they get older, are often cast aside & neglected while children in small families, even as they get older, always receive parental love & attention. Many children in large families are attention starved/deprived, always being needy while children from small families, who receive attention, are content.