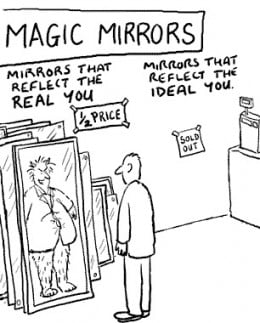 It could indeed be argued that the looking glass self conceptualization of the social self is critically incomplete. It quite simply overlooks the divergent roles of ingroups and outgroups. That is, it has been demonstrated that while individuals will converge upon the attitudes and behaviors of ingroup members, they will also diverge from the attitudes and behaviors of outgroup members. The neglect of the latter scenario is attributed to the looking glass approaches' implicit focus on ingroup member appraisals.
It is also relevant and important to note that individuals are not shaped by the reflections from others, but rather are shaped by the creation of a collective social identity that contrasts us, if you will against relevant others.
Another aspect that is ignored is the influence or insulation if you will, that a significant factor like spirituality or religion can introduce into this rather complex issue...