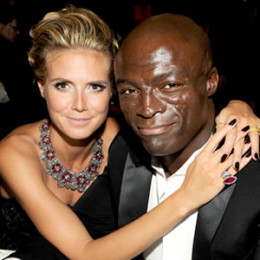 I actually do believe "beauty is in the eye of the beholder".
If beauty was "uniform" a lot of people would never attract a mate!
And yet if you step out of your house and visit any mall, grocery store, park, beach, movie theatre, or even church you are bound to see men or women whom (you find to be completely unattractive) and yet they have a mate! Maybe there is someone for everyone.
One other conclusion is people learn to settle for what they can get.
I'm sure when fashion model Heidi Klum was married to singer Seal a lot of folks must have done a double take! She earns more money than him so we know it wasn't about marrying him for wealth.
Seal is not going to make anyone forget what Billy Dee Williams and Denzel Washington or Rick Fox looked like in their "hey day".
I imagine Heidi saw something in Seal a lot of women would never see. Then again "fame" has ways of making less attractive people more desirable. At the very least people will listen to them.
Sean Penn is another average looking guy at best but he's been attached to Madonna, Robin Wright, Charlize Theron, Calu Rivero, Shannon Costello, Scarlett Johansson, Petra Nemcova, model Elle Macpherson, and the list goes on and on.
Jack Nicholson is another average looking guy who never seems to have a problem attracting "beautiful women".
I'm sure if Sean and Jack had regular jobs installing cable or making UPS deliveries, cutting beef in a butcher shop, or selling shoes their income would factor into how attractive the women are they dated.