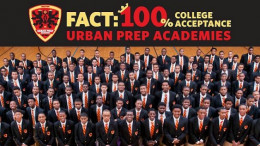 On an "individual" level it's always been possible to be the "exception" no matter how humble one's beginnings are in the U.S. that's part of the "American Dream". Odds are there is someone who just arrived in this country and barely speaks English and yet in 5 years might build a local business that makes them or their offspring very well off.
In Chicago there is a school Urban Prep Academy who has for 5 years running had (all of their seniors) accepted to 4 year colleges and universities. These kids live in very impoverished neighborhoods.
"At Urban Prep, college is not a dream, it's a reality,"
- co-founder and CEO Tim King
This should cause us as a society to want to figure out a way to replicate what they are doing across the country and especially in inner cities. Teacher unions and politicians don't want to change.
Also parents with children in charter schools are more engaged.
Long ago Marva Collins also of Chicago had a TV movie made about her starring Cicely Tyson, "The Marva Collins Story". In 1975 Collins took $5,000 from her teacher's retirement fund and started a private school in the top floors of the brownstone in the West Garfield Park neighborhood. The school she started was called Westside Preparatory School. Westside Prep became an educational and commercial success, They had first graders reciting and analyzing passages from Shakespeare. These were not kids of privilege.