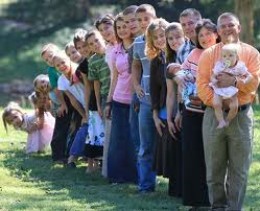 (1) Parents of large families are, on average, are either less educated or have very little education. Less educated parents aren't capable of inculcating or teaching their children properly. In essence, parents can't teach what they don't know themselves.

(2) There is very little parental involvement in large families. In large families, parental resources are stretched extremely thin. Some children will receive attention while others will be ignored at best & neglected at worst.

(3) Large families=socioeconomic poverty. In such household, there is very little monies for rudiments, let alone for intellectual & cultural items & activities which children need to thrive intellectually & academically.

(4) Children have little contact w/adults in the household. Children interact mainly w/other children in large families. This results in their intellectual & academic backwardness as their primary relationships are w/other children who are only a little bit more developed than they are.

(5) Because of monetary concerns, many children in large families are lucky if they complete secondary education. For the most part, they have to forego their education to supplement family income.

Other factors are:
(6) Intellectual achievement isn't taught nor valued in large family households. The main emphasis is on being instinctual, having street smarts & basic survival, nothing else.

(7) There is an anti-achievement & anti-success mentality in large family households. In large families, there is much value placed on struggle, scarcity, & poverty. Anything beyond poverty, lack, & struggle is viewed very negatively in the large family household. Children in large families are taught to be happy w/socioeconomic crumbs.

(8) Beside the anti-intellectualism in large families, there is a feral brutishness evident in large family life. Children from large families are raised to live at the most primitive, lowest common denominational level. To them, a more cultivated form of life is foreign to their sensibilities.

(9) Money & wealth aren't important to children in large families. They are quite happy being impoverished & doing without. Poverty & doing without are normative lifestyles to children in large families. Because of being raised in poverty, they want very little or don't strive to better themselves socioeconomically. They are happy w/very little to nothing.