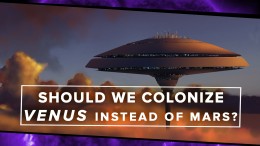 Why Mars? Why not Venus? https://youtu.be/gJ5KV3rzuag?t=15

Think about it. Here on earth there is a community of thought that humans are destroying the planet. Actually if you were to believe them humans will turn earth into a planet like Mars (which is not much more habitable than the cold vacuum of space) within our lifetime through the use of fossil fuels and, if you can believe this, farts.

So I ask, who are these people who want to colonize Mars? They are the same people (Obama and the Chinese) who believe that man made global warming is going to destroy the earth and make it as uninhabitable as Mars. Why then would anyone want to go to Mars when they can simply stay here and deal with the fallout of global warming here? Virtually everyone would have to stay here anyway, so dealing with that would be a much easier and more productive task of survival than sending a handful of people on a suicide mission to colonize Mars, a planet that has been uninhabitable for billions of years according to their science? After all, if the global warming loons believe man is so powerful he can destroy the world's atmosphere then he must be powerful enough to undo the destruction, or is it that science only works in one direction?

What about the moral question. If it is unacceptable to deny that there is man made global warming how is it acceptable to waste trillions, yes trillions of dollars and unnecessarily risk lives to travel to an uninhabitable planet instead of investing all that time, money and lives in saving our inhabitable planet...it makes absolutely no sense...UNLESS...

...unless the ultimate goal of colonizing Mars is to create an avenue of escape from an earth that may someday be doomed by global warming, an asteroid, Armageddon and the second coming, whatever. An avenue of escape for the elite few who don't believe in God and believe they alone have the right to benefit from all your tax dollars they used to colonize Mars. After all, even a child will know Mars can never be for all the people, We the People.

Seckin, btw, how is it you, an English language teacher in Turkey, let the misspelling of "colonize" slip through on your Q&A?