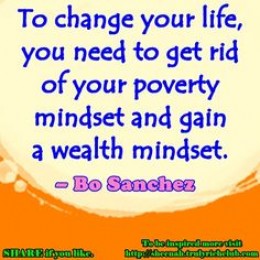 Poor people in the past used to believe in the dictum of pulling themselves by the bootstraps. They maintain that because they were born poor, this was not to be a permanent lifestyle. They wanted better in life. They also were pro-active regarding improving their lives. They refused to believe that others &/or the government OWED them a better lifestyle. Many of them worked & sacrificed in order to live a more affluent lifestyle. They furthermore believed in positive life choices, staying clear of negative life choices.

Not anymore. Many poor people now believe that others(friends, family, & other relatives) & the government through people's taxes should support them & give them a more affluent lifestyle w/no effort on the former's part. They contend that they are poor because of THE MAN or they were just "fated" to be so. They are angry at society because of their dire circumstances. However, they failed to realize that it was their UNINTELLIGENT, STUPID choices which landed them in the dire condition they are in.

People are poor to impoverished, on average, for the following reasons: negative consciousness & outlook, adopting an anti-achievement mindset, viewing education as an exercise in futility, seeing wealth as an evil thing, adopting a passive & fatalistic outlook, acting instinctively instead of thinking logically, having children before they are ready emotionally/intellectually/psychologically/socioeconomically, & having TOO MANY children. Poor people are poor because of their poverty mindset & mentality. People who have an abundance mindset & mentality, even though they are poor, won't remain poor. Such people refuse to let their negative environment preclude them from being successful.

I am so tired of the rationalizations that people make about the poor-the poor can't help it, they are oppressed, they have no opportunities, etc. C'mon, STOP IT! The main reason why people are poor(in America) is because of a negative/poverty mentality, being passive, making STUPID, INANE life choices, & acting w/o THINKING. Also, poor people are SELFISH. Yes, selfish, they act & do things w/o considering the negative ramifications of their actions on themselves, their families, & their futures. It is time to apply TOUGH LOVE measures on the poor- that way they will either...ACT or GO UNDER. Many Americans are slowly becoming sick of the poor.....viewing them as...EXCESS.

Not addressing the poor who are mentally, physically, & emotionally disabled. Also not discussing people who have fallen on TEMPORARY socioeconomic difficulties. Not talking about the sick nor elderly poor. These beautiful souls SHOULD BE HELPED & it is IMMORAL not to do so. Simply addressing those who are mentally, emotionally, & physically healthy who CAN but....WON'T. People are sick & tired of the latter who are simply coasting along in life, being socioeconomic moochers.