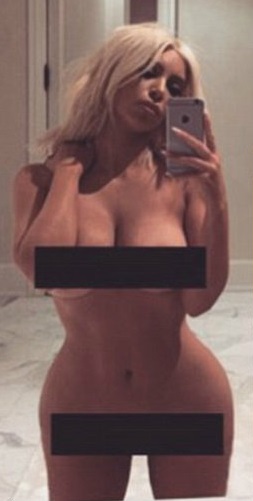 (Sorry, but since this image has already blasted to every corner of the media days ago; this photo is a reminder for discussion purposes.)

What makes Kim Kardashian's nude selfie inappropriate, offensive and misogynistic?

Because while some people – probably mostly men – wouldn't mind spending some extra private time during their morning bathroom routine thinking about the newest Kim Kardashian nude selfie while treating their bodies like an amusment park; most of us would rather not have started the day with that graphic image randomly-torturing our brains. All. day. long.

Really... I opened my Twitter page and it was three images down in my list. I cringed and made a barf sound, then moved on... But then, fighting started out; so things continued for a while.

Think about it… If you are living with other people (aside from your husband); when do you EVER walk around buck naked in front of them while casually remarking that you have the 'girl problem' of having nothing to wear?

Oh, I'm sure there are a few of you out there… but for the most part, NO… You wrap a robe around yourself or throw on an old t-shirt and the same yoga pants you wore yesterday - until you can get a cup of coffee inside of you so that you can figure it out. We don't even take a nude selfie to send to our best girlfriends about the conundrum - although we might send one to a boyfriend, right?

So why send one out to the whole wide world - especially as many times as both she and her beloved husband have proliferated her body and sexuality in that way?

We are all well-aware of how proud Kim Kardashian-West is about absolutely every aspect of her life – because she shares herself constantly while charging for it. Really. You have to PAY to read her blog – that probably isn't really being written by her, for the most part. But, you can also choose to take advantage of the 7-day free trial deal she has going on.

Lucky for us, tabloids have access to her blog and have been able to stir up publicity about her righteous response to 'haters': http://www.standard.co.uk/showbiz/celeb … 98911.html

I never understand why people get so bothered by what other people choose to do with their lives," she writes.

I could care less about her choices - UNTIL they affect me and mine. Is that so bad?

It seems to me that Kim is trying to portray herself as an enlightened Mother Theresa who is finally embracing her 'womanhood' and budding sexuality - now that she considers the internet to be her bedroom.

What do you think... Is this kind of behavior empowering to Kim, her daughter and her fans as she claims? Are the people who complain about it really 'body-shamers' or 'slut shamers' as she accused them of being in her pay-per-blog response?