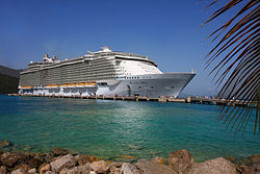 The U.S. does business with both Russia and Communist China!
Fifty years of an old outdated policy has not made things any better. Anyone who has studied U.S. History is well aware that America is not exactly standing on "holy ground" when it comes to how we amassed our wealth as a nation through slavery and the theory of "Manifest Destiny" to justify the expansion of the nation from coast to coast displacing the Native Americans and going to war with Mexico. Every "saint" has a past and every "sinner" has a future.
The president is not "supporting dictators" he recognizes what we've been doing has not made a difference. It would not be much of a surprise once doors are completely open and people are traveling back and forth, cruise ships, new 5 star hotels and resorts are built, fast food restaurants, tourism, and other elements of (western culture will rub off on the citizens) of Cuba.
Democracy will prevail and in less than 20 years Cuba will be similar to Puerto Rico in many ways. Access to commerce and free societies will do more to change Cuba than cutting them off for another 50 years.
Family members will be able to visit with one another again.
Generally speaking it's the "old guard" who are still emotionally invested in the past. The younger generations are ready to focus on the future! It's not about Castro but rather the citizens of Cuba.