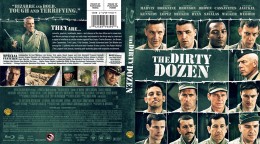 I thought it was overall a decent movie.
These days if any comic book movie doesn't do $1 Billion at the box office it's considered a bomb by some people.
Considering it was a "tier two" level hero/anti-hero movie with a lot of characters most mainstream viewers knew little about it did very well!
According Box Office Mojo a (movie tracking site) it has earned Worldwide: $678,204,337 (almost $700M) on a production budget of $175M. In North America alone it's made over $300M.
The idea is clearly a remake of "The Dirty Dozen" movie.
There seems to be a battle of mindsets over how some people believe comic book movies should be presented.
There's the "Marvel Universe" where most action takes place in broad daylight with heroes offering comedic banter among themselves versus the "DC Universe" where a lot of the action takes place at night and the heroes tend to be more serious, dark brooding, mentally/emotionally scarred individuals.
Personally I like both types of movies and I hope the "DC Universe" doesn't panic and change into a Marvel format just to make more money. Adding a little humor is fine but don't "Disneyfy" them.
I'd rather go see a good Batman/Dark Knight movie over an Iron Man movie. Not everyone feels the same way and that's fine.