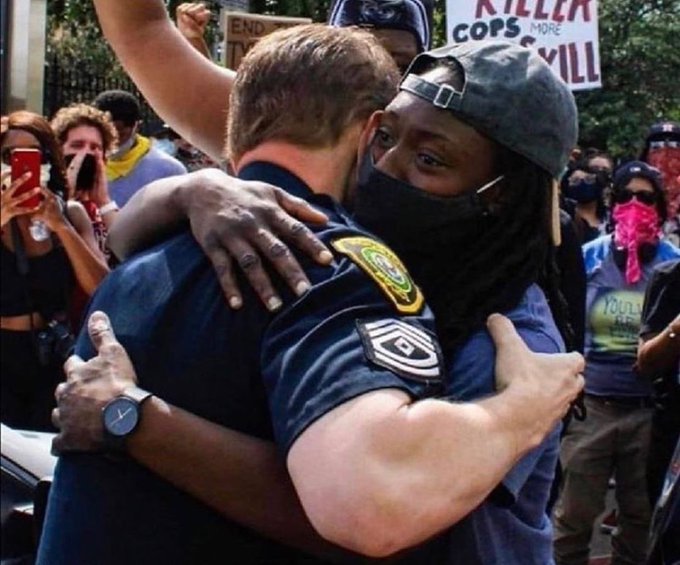 Apparently, people are now criticizing famous Australian actor, Hugh Jackman, these days. Some of you might remember him from such roles like his part in "The Greatest Showman", "The Prestige", "Les Miserables" and etc. While most of you probably know him more for his role as the iconic comic book character, Wolverine, in the various Fox X-Men films over the years.

Hugh Jackman, like many celebrities, has responded to the infamous George Floyd murder in Minnesota, with the following statement:

"I reach for the words of my mentors who've helped guide me through life. One of those mentors is Nelson Mandela. He said 'Racism must be opposed by all means that it has at its disposal. No truer words have been spoken." - Hugh Jackman

Unfortunately, that's not what people are focusing on. After he made that statement, he posted a photo on one of his social media accounts showing a "black lives matter" member, who happens to be black, hugging a white police officer, with a photo being dubbed "solidarity."

Needless to say, he's been criticized hastily since. People are bringing up that they think he's pushing propaganda and some are pointing out that it's not surprising he's missing the point of the George Floyd murder because of his alleged friendship with Donald Trump and his daughter, Ivanka, which I didn't even know about until this shit got brought up.

In one yahoo article I've read about this story, one person was quoted saying this in response to Jackman's photo:

"Solidarity? This is what you choose to post. We are seeing black bodies slaughtered and this is what you choose to post."

Another person was quoted saying:

"Posting one seemingly happy picture really shadows all the awful things police are doing right now,"


And arguably the most interesting comment towards Hugh Jackman:

This is shallow propaganda designed to obfuscate and maintain oppressive dynamics - Brennan Moore

Heck you even have people asking if he's friends with Rupert Murdoch after he posted the picture. For those of you who don't remember who Rupert Murdoch is. He's the former CEO of Fox studios, before the merger with Disney, whom has been under some sexual harassment allegations these days, as many women currently claim he sexually harassed them when he was still CEO of Fox. Not going to comment on that situation, but I will say I do find it VERY odd that people want to ask Hugh Jackman this stuff after he just said that racism should be opposed at all costs, while posting what some would call a harmless picture. But hey, maybe I'm just ignorant I guess for questioning this line of criticism towards Hugh Jackman.

Here's the links to some of the articles that goes even further into detail about this, and including Hugh's own tweet that started the criticism. Please discuss. Also if any of you have information from other various sources, then feel free to share them down below as well.

Hugh's Tweet:

https://twitter.com/RealHughJackman/sta … 4605390852

Sources:

https://www.foxnews.com/entertainment/h … ing-police

https://www.yahoo.com/entertainment/hug … 31625.html

P.S. I apologize if I offend anyone for merely even posting this forum thread, as I'm fully aware the whole George Floyd incident is a touchy subject for people, and the police officer that killed him should be prosecuted to the fullest extent of the law. I want to make my position very clear about this. And I do apologize to anyone here thinks I'm making light of the situation, or taking away focus from the situation at hand, as I can assure you that is NOT my intention. My only intention of this thread is to discuss whether Hugh Jackman deserves the criticism he's getting for the photo or not. That's all. If you wish to participate in this thread, then you will do so under your own free will, as I'm not going to force anyone to talk here about it.

Just making my position crystal clear, as I do not want any misunderstandings about my intentions.