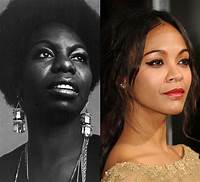 In 2016, Zoe Saldana played Nina Simone in a biopic, where she had to put on a prosthetic nose and used makeup to darken her own skin to play the part. Zoe Saldana is half Dominican and half Puerto Rican, and originally at the time, she felt she had a right to play the role because she too is a black woman. However, many people felt that a darker skinned black woman would've done the part more justice, as she wasn't the right shade of black for the role, and many felt Nina Simone deserved better in the biopic.

Zoe gave a tearful apology saying how she apologizes for not being black enough for the role, and wished she had used her leverage at the time to force to studio to cast a more darker skinned black woman for the part, as many felt they should have.

Here's a link to know more about the situation:

https://www.dailymail.co.uk/tvshowbiz/a … etter.html

Nina Simone is on the left of the picture, and Zoe Saldana is the one on the right in case anyone needs clarification.

Edit: Anyways, what are your thoughts on this? Is Zoe Saldana being sincere in her apology? Do you even think she had to apologize at all for doing this part in the first? Do you think cancel culture is getting out of hand? please discuss.