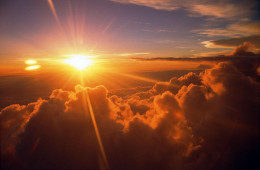 Not uncomfortable w/ homosexuality at all. In fact, there is a total acceptance of homosexuality on my part. Gender orientation whether heterosexual, homosexual, bisexual, or asexual are non-issues to me.

To digress, what I am quite uncomfortable, even annoyed with are parents who willingly/knowingly have children when they can't afford them & parents who have large/very large families knowing that by such actions, children will be neglected & will have DECREASED educational & socioeconomic opportunities-THAT SETS ME OFF. If my child insisted on having children h/she couldn't afford & a large/very large family, I would feel that SOMETHING was SERIOUS AMISS w/my child, given my pro-family planning stance.

Now returning to the subject at hand, if I have a child & h/she informed me that h/she was part of the LBGT community, so what! H/she is my child & I WILL LOVE HIM/HER TO DEATH!!! Also, I won't mind if my child(if heterosexual) have friends from the LGBT community. LGBT issues are HUMAN issues- we all are ONE.