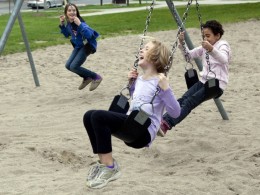 As a child all of my friends were other children who lived in my same neighborhood and went to the same school as I did.
No one acted like they had more money or less as children.
Life was simple. We rode our bikes, swings, played hide & go seek....etc (Chased down the ice cream truck.....)
I think a child really doesn't know about social economic status until they "branch out" or socialize outside of their neighborhood.