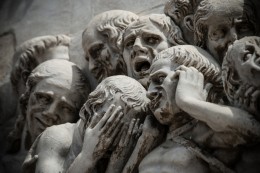 Oldest children are expected to mature very quickly, even before they are emotionally, mentally, psychologically, or even psychically ready to do so. They are held to very hard & high standards of behavior. They are admonished for being children. They aren't even viewed as children by their parents but are seen as proto-adults by their parents.

Oldest children aren't allowed to be children or to have an unencumbered childhood as other children do. They aren't not hugged as other children are. They are also not indulged by their parents. Studies have shown that oldest children are hugged less & are shown less outward parental displays of affection than their younger siblings. Parents are more stern & harsher towards their oldest children than they are towards the other children in the family. Oldest children are punished more harshly & aren't given any quarter when they commit infractions.

Oldest children also have adult responsibilities thrust upon them such as parenting/raising younger siblings & other onerous adult responsibilities. It is nothing for oldest children never to have a normative childhood as other children have. The life of many oldest children can be described as purgatorial at best & downright infernal at worst. Slaves & forced laborers have an easier life than the average oldest child who is treated as a slave by his/her parents.

Oldest children are expected to put themselves last, even to disregard themselves for the benefit of the family. They are told that it is family above all & that they are.....NOTHING. They are seen as useful objects only to their parents & siblings. They are devalued- i.e. they aren't valued nor respected as individuals. When they are no longer in use, they are discarded & tossed aside by their parents & siblings until they are deemed useful again by their families.