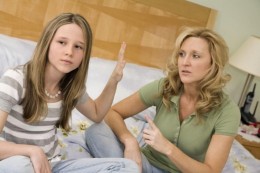 I don't have children but I have had adults introduce me to their kids by first name. These days that's the norm. However many do not allow their children to call (them) by their first name.
When I grew up all adults were addressed by Mr./Miss/Mrs. and their surname. If a child were to call his parents by their first name they'd be physically punished! It was disrespectful.
However as the "baby boomers" became adults they didn't want to "feel old" be identified in the same manner that their parents were. Everyone wanted to remain "young" and "hip".
In fact a lot of "baby boomers" sought to be "friends" with their children and encouraged them to express themselves especially if they disagreed with their parents.
Personally speaking I believe using surnames and not calling parents by their first name served as a "buffer" or (automatic line of respect) between a child and an adult.
Everyone "knew their place" and if a child didn't want to obey it was time for them to move. The more slack parents cut with children the more disrespectful the kids became towards them. Parental support groups like "Tough Love" were created for parents who lost control of their households to their children. TV shows like "Super Nanny" were created.
Essentially many parents had created "monsters" and needed help to reign in their children.
Calling parents & adults by their first names was probably the first step to eroding boundaries.