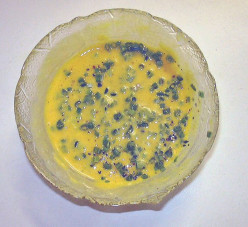 Bearnaise Sauce is a classic French sauce made with butter, vinegar, egg yolks, shallots, and tarragon and served with meat, seafood, eggs, and vegetables.

Bearnaise Sauce

1. One Fourth Cup Tarragon Vinegar.
2. One Fourth Cup Dry White Wine.
3. One Fourth Cup Finely Chopped Shallot.
4. Three Egg Yolks Lightly Beaten.
5. Two Tablespoons Chopped Fresh Tarragon.
6. One Half Cup Butter Cut Into Small Pieces.

Combine the first three ingredients in a saucepan. Bring to a boil over medium heat.

Reduce heat to low and simmer until the liquid reduces to one tablespoon full which will take about ten minutes. Pour through a strainer and save the liquid. Cool your liquid.

Combine reserved liquid, egg yolks, and two tablespoons tarragon in a small heavy sauce pan. Cook over low heat cooking constantly with a wire whisk.

Add one third of the butter and cook over low heat stirring constantly until the butter melts.

Add another third of the butter and cook whisking it in as it melts. Add the remaining butter and repeat.

Stay there with your Bearnaise Sauce and don't leave it. You want to stir it almost constantly with your wire whisk.

You should end up with about three fourths to one cup of Bearnaise Sauce.

This homemade Bearnaise Sauce is excellent on grilled steaks. Try it and see what you think.

A heavy sauce pan and a wire whisk are two important things to have.

I like to steam Brussels Sprouts and then when they are done I pour a small amount of Bearnaise Sauce over them and serve them with grilled steak. I serve a small 1/2 ounce cup of Bearnaise Sauce with each grilled steak.

Do you have any Bearnaise Sauce Tips, Tricks, Or Ideals? Have you ever had homemade Bernaise Sauce on a grilled steak. On grilled rib eyes there is nothing better.