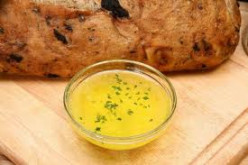 Garlic Butter Sauce

1. One Half Cup Butter.
2. One Tablespoon Fresh Minced Garlic.
3. Two Tablespoons Whipping Cream.
4. Two Tablespoons Fresh Squeezed Lemon Juice.

Melt your butter in a small sauce pan over low heat. Add whipping cream and garlic and cook stirring constantly with a wire whisk.

Stir in your lemon juice and remove from heat.

If you need more garlic butter multiply the recipe. This is excellent to dip peeled shrimp or lobster in.