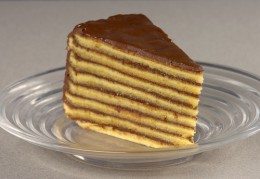 The Smith Island Layer Cake is an 8 to 10 layer yellow cake with chocolate icing. Did you know there is a movement under way to have the Smith Island Layer Cake designated as the official cake of Maryland.

2 Boxes Duncan Hines Butter Cake Mix
2 Sticks Real Butter.
1 Twelve Ounce Can Evaporated Milk.
1 and 1/4 Cups Whole Milk.
8 Large Eggs.
2 Teaspoons Vanilla.

Preheat your oven to 350 degrees. In a large mixing bowl mix all of the above ingredients together well being sure that all your mix is well mixed together.
You will want to bake your layers being sure not to over fill your cake pans until you have 10 layers baked, removed from the pans and cooling.

For Your Icing You Will Need

2 Sticks Butter.
8 Heaping Tablespoons Unsweetened Cocoa.
2 Pounds Confectioners Sugar.

pour your icing ingredients starting with the butter into a non stick pot that you have sprayed with vegetable cooking spray and cook slowly over low heat stirring often until the icing will stick to the back of a spoon. This will take about 45 minutes over low heat. Allow your icing to cool to room temperature and when all 10 layers are cool put your Smith Island Layer Cake together.

And guess what you just made a Smith Island Layer Cake.