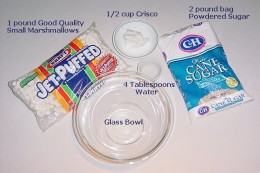 Melt your marshmallows and two tablespoons of water in the microwave until melted. Pour 3/4 of the powdered sugar in on top of the melted marshmallows.

Now grease your hands thoroughly and grease a place on the counter. Dump and rake the bowl of marshmallows and sugar into the center of the greased spot.

Start kneading like you were kneading dough. Keep working until you have an elastic like ball. You need to get it to the point where it will stretch with out tearing so you can apply it to the cake.

I have made the icing by dying it yellow and flavored it with orange flavoring to make a orange cake. My layers for that cake were made of the orange crush pound cake recipe. If you want that recipe go to my profile and put " Orange Crush Pound Cake " into the search box there and make your layers by that recipe. So to answer your question yes you can flavor Fondant Icing.