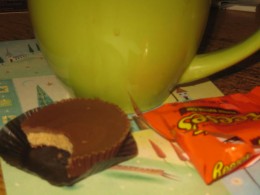 I am not sure of wrong unless breaks some silly diet rules . . .

I like them cold. I keep them in the fridge. I think I'll grab one now savor it for a moment, and ponder . . .


Poem


Undecided anticipation eager decision of delight most,
Tearing a line between thoughts of savor unfolds hidden,
Alas, not prize is past memory promise now a new treasure,
Darkness asks if sinful tempts while hidden offers promises.


Slowly surrounding pleats undressed echo each snap a pop,
Statuette is clever crinkled sides asks if pleasure be counted?
Smooth, luscious pool begs diving to depths of wickedness joy,
Beacons spy upon appetite's catch gates of pearls welcoming.


M'm . . . M'm a moment becomes eternity's blessing received,
Tormenting duel of flavor obscures sanity's decision of most best,
Synergistic energy blasts logic of this or that is united always one,
Aha . . . to know assuredly means once more this adventure told.


Alas, a question arise of senses satisfied as time bequeath more,
Demon shares bold swiftness gratification soonest bounty captured,
Angel whispers eye beholds beauty of slow journey a greater prize,
Inquisitive asks if wrong be right while right says wrong no matter . . .


of choice . . . it's all gone now . . .