SORRY TO SAY I searched the net sorry combed it...but the secrets a secret man...there were so many kfc workers who had commented.........saying all sort of herbs and even rubbish,,,,,,,,, but do you think kfc is stupid. They get the mix from the main factory and what these people in the restaurant do is just dip and fry....
The closest I got is on one of my hubs
Make chicken like KFC..And I am glad to get all positive comments.

Then again my recipe has no herbs it tastes like a relation of KFC..

IN CASE YOU SUCCEED IN FINDING, DAVE, REMEMBER I AM WAITING WITH MY MOUTH OPEN.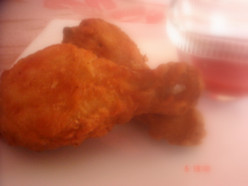 THAT'S MY PICTURE...Yet to upload to my hub. ALL THE BEST.

Cagsil is right...hehe...why don't you give it a try.
Even if you don't uncover the secret you at least get to eat KENTUCKY FRIED CHICKEN...