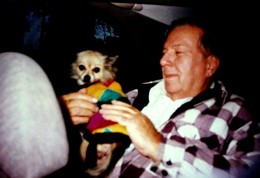 My father always said, "This world is a Bucket-Of-Worms." He died several years ago on FATHERS day! He wanted to be cremated and wanted NO funeral. So, suddenly, i had no father and the sudden death gave me no opportunity to say goodby also. and no funeral. I don't think we ever get over the death of a parent. My dad didn't want a funeral because he said, "When someone dies, it is too late to show them you love them. Nice caskets and flowers don't mean anything. So, you have to show them (love) while they are alive."

So I hope you can take some comfort in your memories of growing up and when he was alive. It is all we have left, That's why I think it is better to think on those things (the good times) and try to eventually someday forgive the stepmother.
I hope my answer helps a little.