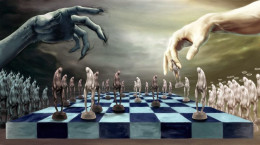 In the United States, one's socioeconomic class is a very strong determinant as to whether h/she will be respected, the quality of education & health care received, where h/she will live, & the overall quality of life. It is well documented that the level of one's socioeconomic wealth is correlated to the quality of life. The higher the wealth, the higher quality of life. Descending wealth strictly corresponds to the descending quality of life. Wealthy people have an excellent quality of life, middle class people have a middling quality of life, & poor people have an abysmal quality of life.

Wealthy people can live in the choicest neighborhoods. They also have the choicest quality of education for their children, superb health/medical care, & superior quality food. They also have avenues opened to them & their children in terms of jobs & education which are closed to other socioeconomic classes of people. They have access to networks & societies that aren't accessible to the middle class & especially the poor.

Wealthy children have opportunities to attain the highest levels of education possible. Middle class children can attain high educational levels but not w/ the ease that wealthy children can. However, it is next to impossible for poor children to attain high education levels. If a poor child completes secondary education, h/she is extremely lucky.

Wealthy people can travel anywhere in the world that h/she desires. Middle class people have to travel w/n his/her designated budget while it is impossible for poor people to travel because such is prohibitively expensive for them. In old age, wealthy people have the means to delay, even retard aging by having cutting edge medical treatments. Middle class & especially poor people don't have this medical access which explains the youthfulness of wealthy people which bely their actual ages.

Wealthy people have an excellent quality of old age. They have caretakers who will give them the best of care. They have the means to be cared for in their homes. They don't have to suffer nursing homes like the middle class & poor who oftentimes don't have the monies for caretakers. In old age, many middle class & poor old people become poorer & have to live on a fraction of their former salaries in contrast to raising living conditions.