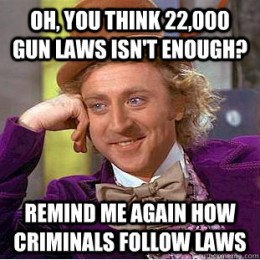 Had to find out what the little boy on the right was holding. It's a kinder egg and toys inside food is illegal in USA. No, do not want a ban on guns - ever.

Vince Vaughn: "Banning guns is like banning forks in an attempt to stop making people fat. Taking away guns, taking away drugs, the booze, it won't rid the world of criminality."

David Kopel and Jarret Wollstein: "If banning guns worked, Washington, D.C. and New York would be the safest cities in the country. Gun prohibition won't keep guns out of the hands of criminals or make us safe."