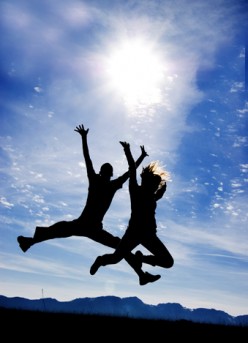 meditation, meditation technique, yoga, spiritual enlightenment, spiritualityIn my meditation this week, I found myself "thinking" about breath a lot. Thinking: "Breathing out, I am breathing out; Breathing in, I am breathing in." This is a meditation technique talked about in Thich Nhat Hanh's "Breathe! You are Alive." Yesterday, however, I began to think about how my thoughts about breathing, and directing my breath much like I would lead a yoga class, could directly tie into the idea of thinking about moving something having very little relation to the actual movement of the body. I can think "I am breathing deeply" but still breathe a shallow breath; the thought is not a command followed by the body. The thinking mind that thinks about directing the body or breath is separate from the unthinking mind which directs the central nervous system to movement. For example, right now there is no part of my "thinking" mind that is directing my fingers where to go as I type. But they go there anyway.

Attaining Mental Clarity and Joy through Meditation?

Practitioners and teachers have long described the numerous mental and physical benefits of yoga and meditation practice. A recent scientific study measuring the electrical activity in the brain of those practicing a specific meditative practice, taught in Isha Foundation's Inner Engineering program, provides scientific evidence to support some of these claims. The self-realized yogi and the founder of Isha Foundation, Sadhguru Vasudev, will be visiting Houston May 4-6, 2012 to conduct this Inner Engineering yoga and meditation program, which offers a powerful possibility to balance and align one's inner energies, leading to enhanced joy as well as improved physical and mental wellbeing.

The Inner Engineering program includes interactive discussions, guided meditations, a set of simple, gentle asanas (yoga poses) and the transmission of Shambhavi Mahamudra kriya. Shambhavi Mahamudra is a 21-minute practice that greatly accelerates spiritual transformation and can have powerful physiological benefits as well. The kriya is an ancient internal energy process that functions as a catalyst for spiritual growth. When practiced regularly, the Shambhavi Mahamudra kriya will support health and inner wellbeing the rest of one's life.