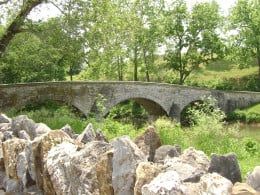 I haven't been to all, but have been to several Civil War and Revolutionary War battlefields, some large some small, some in the North, some in the South.
For the Revolutionary War, I think Yorktown impresses me the most. How the British were trapped and had to withstand that siege until they eventually surrendered. Some of the scars still remain.
I have been to several Civil War Battlefields; Shiloh, Vicksburg, Antietam, Gettysburg, to name only a few. Overall, my favorite is Gettysburg. But, I can only imagine the intensity of the battle at Burnside's Bridge (Antietam) as a small number of Confederate soldiers on a bluff held off a much larger number of Union soldiers for hours. Attached is a photo of Burnside's Bridge.
In honor of the 200th Anniversary of the War of 1812, I would like to see a few of these often little noted battlefields.