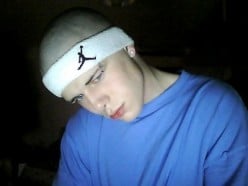 ay thiz iz 4 my dream gurl
Ya lips are so exquisite
but I dont know what is it
your lips your hair
wat it is I dont care
its got me hypnotized catch me starin glarin locked on your eyes
i Can see the fire burnin in our lives and you can see right past the lies and you portray what I idolize
dream gurl when i;m with ya time stops
I feel like i'm on top
but not like a prince but a king
gurl you know that i'm gonna give you a diamond ring
my heart is true is yours i'll even give you the key to the door

I drink to ease the pain I smoke weed to keep from going insane.
You don't have to ask twice girl I'll kiss you in the rain as I'm checkin you're A-frame.
I'll tell ya girl you take away the pain, and you keep my spirit tame.
You are like my sunrise it's such a nice surprise to wake and see another day.
See you and me the same but opposite, like you're my other half.
Fillin my heart with mass see you and me we got this perfect chemistry.
And I know this is the way it should be.
When you kiss me you make my body shiver with anticipation.
Of a relationship that could be possibly lead to me fertilizing you with the seed.
That could be the next Muhamed Ali.
But seriously you mean the world to me and I love you boo I don't ever want to hear the words we threw.

Foever you will remain my dream gurl
My feelings for you are like a never ending river.
When you ask me if I think we're gonna last forever n ever.
I tell u for me its endeavourer.
As long as my heart beats and we are together I know I am complete.
Cuz my feelings for you guarantee that I am going to remain true.
From the bottom of my heart to the depths of my soul I know I love you.
cuz you suspend and un bend and became part of my heart.
And made it into abstract art.
My only hope it that you don't tear it apart.
I know that as long as our hearts are combined together.
I know that we are going to last forever and ever dream gurl.