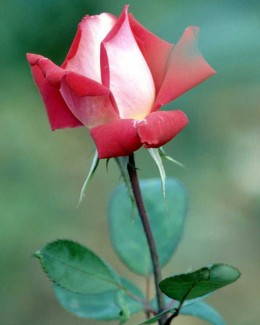 There is no difference at all raising a long stem rose from other types of roses. Long stemmed roses are Hybrid Tea roses. They were bred for their stem length as well as the flower size of each stem's single rose. All roses require the same conditions to grow and thrive. Here's a few rose bush care tips for you.

1) Plant in full sun where your rose bush will get 6-8 hours of bright full sunshine daily. Do not bury the plant's crown.
2) Plant 2-3 feet apart for good air circulation around your roses. This prevents mildew, black spot and other diseases.
3) Water first thing in the morning when the soil feels dry about an inch below the surface. Water with a soaker hose turned on low so the rose bush is watered slowly and deeply. Rose foliage is subseptible to a host of problems when it is gotten wet. That is why overhead watering should be discouraged completelly from the rose garden. Once or twice a week deep watering is best for roses.
4) Roses are heavy feeders. Feed in early spring when buds begin to open with a 10-10-10 balanced fertilizer. Repeat every four weeks until mid September.

With a few of the many tips available on growing roses, I hope this helps you and answered your question.