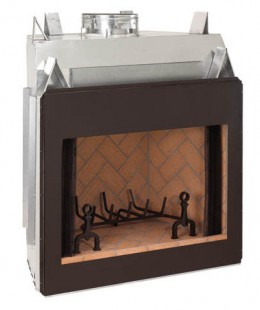 The answer depends on what you mean by "fireplace insert". With over a decade designing and building custom fireplaces I take the term to mean the fire box that is installed in to the wall to create a fireplace.
A metal box with the fireplace opening defined and the brick liners, screens and vent hood installed is a benefit when building wood-burning, vented and ventless gas fireplaces because the box design makes sure the heat stays only where it is safe to be. The box is insulated and has the gas line, electrical outlets, ventilation attachment all attached to the box. Using a fire box means a fireplace can be built into any wall -- even using combustible materials like particle board and wood. The fire boxes are not very expensive, are available in many sizes and are extremely safe in various applications.
Before using a fire box a builder would have to custom build the inner area and the insulation around the fireplace. The builder would have to determine the angle of the "ceiling" and the size of the flue opening and the angle of the box opening and the height and the builder would have to know how to determine how to do this while understanding the effect these different decisions will have on the ventilation and the flames.
The "Pro" side of using a fire box when building a fireplace is that the firebox is designed to take the decisions out of the hands of the builder and make sure all the safest decisions have been standardized. Inexpensively. The custom builder is than only building the decorative surround, the facade.

The "Con" side of using a fire box is that the opening of the fireplace is standardized. There are hundreds of options but the fireplace opening must be one of the standard sizes to benefit from using the fire box. Although something of a "Pro" each fire box will have options for trims, screens, doors and other decorative accessories but the options for the firebox are the only options. The the fire box you buy does not have a brass fireplace door kit then you cannot have a brass door kit on the fireplace unless it is custom made.

The use of fire box inserts when building a fireplace is a huge benefit to both the builder and the homeowner because safety is guaranteed and there are enough options that can be customized that there are almost no limitations. Once the fire box insert is installed and customized the only visible part of the original insert is the inner fireplace brick liner.