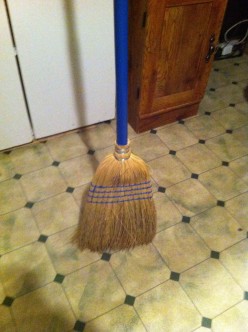 I would never think I would see the day on Urban Legends, but that's how I see it.

A co-worker came up to me yesterday and was talking about brooms standing on their own!

People,please. But you wouldn't believe it but I got caught up in the hype and the drama. All us nurses at work while this girl stood a broom up and yep, it stood up. We all hollered so much our boss that was eating stuck her head out to HUSH all of us up.

It is catching, that night I seen the therapy wing had done the boom experiment. Of course they showed it on Facebook.

I know I'm not Einstein, and this is not
Rocket Science, but when I came to my senses, and was my old Dee-Self, I knew that a broom could stand up in the first place.

I am smiling a little as I write this. Because even though I feel silly, it was fun.