... based upon articulable facts describing suspicious behavior - there is no 'gut feeling' - except for now that is.

Precriminal behaviour programs have already been started such as the "indeterminate imprisonment for suspected terrorists" that is part of the National Defense Authorization Act, (NDDA).
Any time a head of state, diplomat, the Superbowl, Dem/Rep conventions, the families thereof, retired or not are present the NDAA can be used which suspends the constitution in WDC & NYC. any any other place these extra-protected people are present.

And it gets worse: read 'Mind Wars'. I'm going to write a hub on DARPA's research to probe your mind in a noninvasive matter.

But there is already the Police Test Predictive Policing Program based on rather crude markers such as pop tarts, YES Pop tarts! No freaking joke.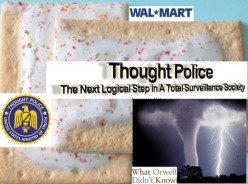 http://voices.yahoo.com/police-test-pre … 88612.html