NY judge - appointed by Bill Clinton. If it is so legal then why did Clapper, The Director of National Intelligence feel he had to lie to Congress about NSA surveillance? What else will he lie about?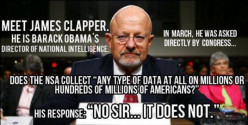 Back at an open congressional hearing on March 12, Sen. Ron Wyden (D-Ore.) asked Clapper, "Does the NSA collect any type of data at all on millions or hundreds of millions of Americans?" Clapper replied, "No sir … not wittingly." As we all now know, he was lying.

We also now know that Clapper knew he was lying. In an interview with NBC's Andrea Mitchell that aired this past Sunday, Clapper was asked why he answered Wyden the way he did. He replied:

"I thought, though in retrospect, I was asked 'when are you going to … stop beating your wife' kind of question, which is … not answerable necessarily by a simple yes or no. So I responded in what I thought was the most truthful, or least untruthful, manner by saying, 'No.' " There are many ways that he could have finessed the question, as administration witnesses have done in such settings for decades, but Clapper chose simply to lie. "Truthful" and "untruthful" are not relative terms; a statement either is or isn't; there's no such thing as speaking in a "most truthful" or "least untruthful" manner. Nor was this a spontaneous lie or a lie he regretted making. Wyden revealed in a statement later that he'd given Clapper advance notice that he would ask the question and that, after the hearing, he offered Clapper a chance to revise his answer. Clapper didn't take the offer. He lied, but then what else is new about this administration? He lied and he isn't even running for an office! Any good liberal will tell you it's OK to lie if you are running for an office, like President of the US (a video caused 4 to die in Benghazi, you can keep your policy if you like it, need I go on?).

How can liberals justify lying to get elected? Lying to congress?...well you can always boil their defense down to - others do it so that makes it OK - no one ever asks the question "If he lied what else will he or has he lied about?"