Tell Congress: Tax reform should help working families, not millionaires!
https://petitions.signforgood.com/prote … orgood.com

Want a new house? If you're in a big city or a blue state, you'd be screwed. It limits the mortgage tax deduction of $500,000 for new home purchases. Existing mortgages will be grandfathered.

Have a student loan? Bad news. It repeals the deduction for student-loan interest.

Have high medical costs? You're hit, too. It repeals the itemized deduction for medical expenses.

Have children? The child tax credit would be increased from $1,000 to $1,600, though the $4,050 per child exemption would be repealed. In return, it creates a new $300 credit for each person in a filer's family who isn't a child. But that tax credit expires in six years.

Do you want to adopt a child? You won't get a tax break. It repeals the tax credit for that, because family values.

Pay a lot in local taxes? Bad news here, too. It repeals the deduction for state and local income and sales taxes. You would still get a deduction for property taxes, up to $10,000.



Meawhile:

Almost all of the cuts go to corporations, in that corporate tax rate cut from 35 percent to 20 percent. But they also gain in income earned abroad which will either be not taxed at all, or taxed at a much lower rate than 20 percent. This, of course, trickles down the wealthy and very wealthy who earn a disproportionate share of their income from capital like stock sales and dividends. Note that none of the breaks that corporations are getting will ever expire.
The just wealthy and not ultra wealthy—people making in the mid- to high-six figures—move down a bracket to a lower rate.
The alternative minimum tax, or the AMT, is repealed. The AMT has been around for four decades, and was created to make sure that really wealthy people couldn't take advantage of credits and deductions to reduce their tax bills to almost nothing. The AMT accounts for $31 million of Trump's 2005 $38 million tax bill. (We only know about his 2005 taxes—he hasn't released any other returns.)
The estate tax is phased out—reduced by increasing the exemption and applying it to a smaller set of the very wealthy—then repealed entirely in six years.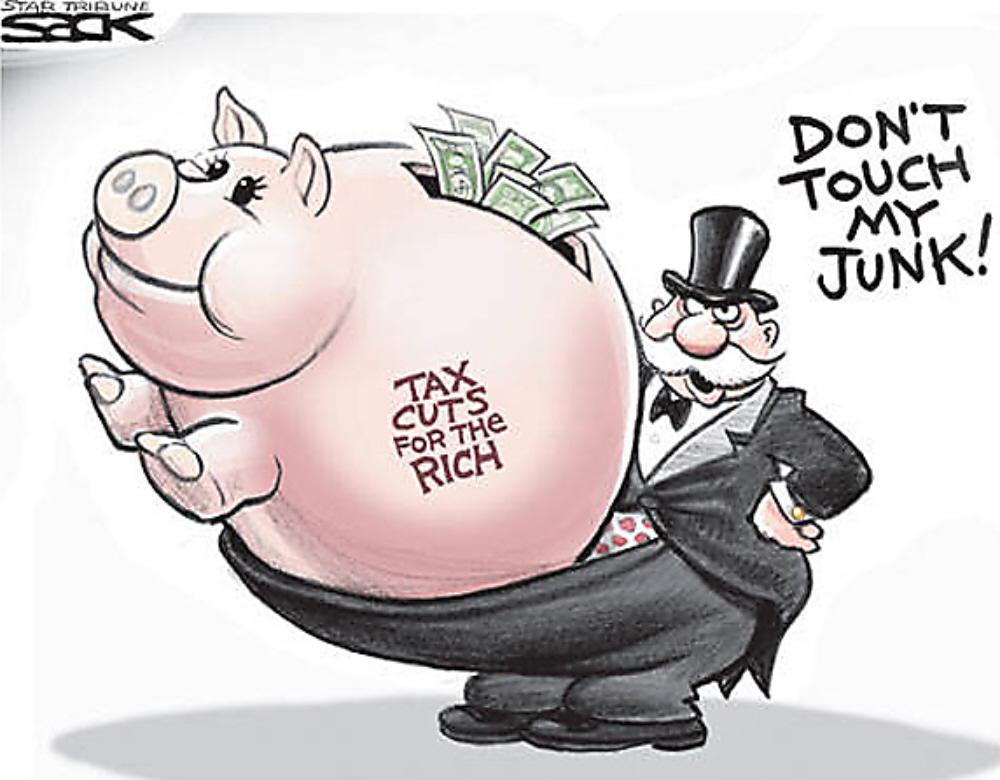 Republicans made it abundantly clear what their top priority is once again: padding the bank accounts of their wealthy pals, even if it means ripping off America's hardworking families, seniors, and the poor.

Rather than writing a tax reform plan in the open – one that puts economic growth and Americans' financial security first – the Republican tax proposal targets America's working families, seniors and the poor. And it's all to further line the pockets of the wealthiest few and big corporations: the exact folks who need the least help.

People living paycheck to paycheck, single mothers working multiple jobs to keep food on the table, young people trying to buy a home and even families working hard to save for their kids' college are all going to lose with the Republican tax reform plan. This bill is a disgrace. The GOP is negotiating away what's best for American families so Donald Trump can give a massive tax break to his Mar-a-Lago cronies, not the hardworking families that helped build this country.

join me today by signing this petition to tell the GOP any tax reform plan shouldn't come at the expense of America's working families, seniors and the poor!

https://petitions.signforgood.com/prote … orgood.com