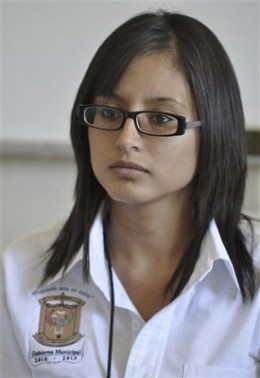 The masses are engulfed in entertainment; probably because their lives are so pitiful and without substance that they need a mind-altering fix. And so sprouts Facebook, which competes with billionaire athletes and self-absorbed celebrities for time and space.
But wait! There have been breakthroughs in cancer research! Doctors fight a spreading cholera epidemic in Haiti! And don't forget the child who became a police chief: Marisol Garcia, a 20-year-old student in Mexico, who took the job in a tough cartel-controlled border town after all the other chiefs of police were killed. Ah, but instead it is the lame and docile Facebook where we titter and amuse ourselves and block out the harshness of the real world.
My pick would have been Suu Kyi, a Burmese politician who has been jailed three times for her pro-Western beliefs, or Marisol Garcia (pictured).