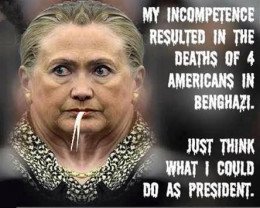 Interesting, 3 months and not one answer for Hillary for President 2016. Could it be that finally people got her number? or is it just that Hillary supporters prefer too stay in the closet so they don't have to discuss her record.

Oh, I know it's that vast right wing conspiracy up to their dirty tricks. You don't want to get on their blacklist for backing Hillary! Well to console you I offer this, THERE IS NO VAST RIGHT WING CONSPIRACY which by the way while popularized by Mrs. Clinton in her 1998 interview, the phrase did not originate with her but was from a Thatcher-era British crop of paranoid left-liberal films.

Yes, that is what we want in the White house, the first woman president! Who cares if she is a paranoid (vast right wing conspiracy), delusional liar
http://www.washingtonpost.com/wp-dyn/co … 02989.html
who her own liberal leader a life long Democrat Zeifman said "She was an unethical, dishonest lawyer. She conspired to violate the Constitution, the rules of the House, the rules of the committee and the rules of confidentiality."
http://patdollard.com/2013/05/flashback … stitution/
and who we all know was the one person responsible for the unnecessary death of four American Patriots and who collaborated to cover up the truth about it so that Obama could be re-elected and she'd have a chance at 2016...Well I say not a chance, America is waking up, we have had our fill of Saul Alinsky "radicals".