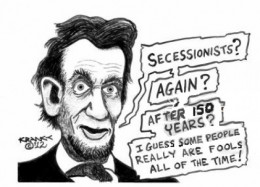 Wasn't that tried once? Didn't work out so good for the south.

It will never happen because the states get too much money and services from the federal government - they couldn't survive without it.

You may be liberated from the sheer living hell of the federal tax code but aside from being illegal of course, you'll also "get fewer government services" Also, your newly independent nation will go into recession, and fast. The feds would take back their highway, airport, and university research funding, and maybe even demand a refund, says the Fort Worth Star-Telegram in an editorial.

Obama would close down or repossess federal courthouses, prisons, national parks, and military bases that pump tens of billions each into local economies. Plus, newly minted nations would have to pay for their own militaries, says Jack Simmons at the UT-Arlington Shorthorn. "We would also need some form of health care, some sort of disaster relief, a postal service, welfare, social security, FDA, CIA, FBI — the list goes on," totaling well over a trillion dollars. "And that's just start-up costs."

So you see there is nothing to these hoaky petitions to secede other than an avenue to vent dissatisfaction with being under the thumb of the federal government.