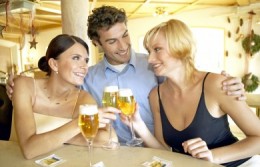 For me it's not important.
However I suspect there would be many people out there who would be upset or unhappy watching a president out on the town with different women or men and having them spend the night in the white house. They don't want to see the president out on the prowl. LOL!
Having said that James Buchanan, the nation's 15th president and Grover Cleveland, the nation's 22nd were elected while being single.
Three things that will keep a person from getting elected today as president of the U.S.; are being an known atheist, being single, or practicing the Muslim faith.
Although none of those would be considered unconstitutional people still want to believe their president believes in God, is dedicated spouse and parent, and practices a religion which is in line with the majority.
Concerns were raised over JFK being Catholic back in the 60s.
There are "unwritten rules" people have for voting for a president.