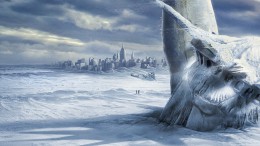 What would happen to the climate if we were to stop emitting carbon dioxide 100% today? Once CO2 is already released, it would take eons to return to the rocks. It does not go away, unless we, ourselves, remove it. Stopping deforestation of carbon sinks such as the Amazon is required.

The ineffectiveness of laws alone to protect the environment is going nowhere. On the other hand: record-breaking rains triggered so much new growth across Australia that the continent turned into a giant green carbon sink to rival tropical rain forests

The Quixotic lunacy of useless gestures such as reducing carbon emissions - unless there is a 90% reduction in human production - must look towards creating environmental carbon sinks.

Aquifers beneath deserts are theorized to hold more carbon than the entire Earth's plant life. Since fracking destroy aquifers, it does appear that lowering emissions and carbon credits is merely rearranging the chairs on the Titanic.

The only reason why political control via the propaganda that it is reversible is merely to socially engineer the wage slaves into having lower expectations of living standards.

Without this propaganda, we would all go berserk as in Sodom and Gomorrah where everyone goes crazy raping & pillaging. Perhaps the people of Sodom and Gomorrah knew their time was up and had their one last hurrah before the Lord rained down burning sulfur.

Which is eerily coincidental since sulfur-rich particles in the stratosphere leads to a global cooling effect.