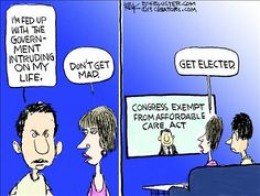 How many think America is doomed for 4 years?

I doubt even 1. How can something be doomed for only 4 years? It is either doomed or not. Doomed means likely to have an unfortunate and inescapable outcome; ill-fated. If America be doomed to an inescapable outcome then there is no coming back after 4 years.

But I would say there are a lot of moral people who would say America has been doomed for many years starting with the administration of George Bush senior and is simply spiraling down to its inevitable, inescapable end no matter who gets elected from here on out.

America has drifted too far to the left and just like the failure of every socialist and communist government, America, no matter who is president, is doomed, doomed by a dumbed down education system resulting in a dumbed down electorate, a corrupt and immoral media complex, politicians and government officials who are incompetent at everything, even lying, which they do on a daily basis and everybody knows it.

Today's America is and has been on the wrong track for many years and no one or two terms of any conceivable candidate for president can turn it around, only delay the inevitable, not because of any candidate's policies but basically because the core of the country, "we the people" have become "we the people want more at any cost."