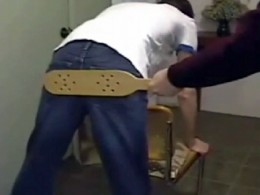 Most people tend to punish their children the way they were.
Since society doesn't actually step into someone's household it is limited to what can be done aside from creating laws or taking children away from their parents and placing them in foster homes.
Note: Very few children in foster homes or the system are "happy".
When I was growing up in the U.S. it was normal for parents to whip their children with belts, switches, or electric cords when they got out of line. More often than not it was done in the home.
However a public spanking wasn't unheard of for bad behavior.
In addition school teachers/coaches, & principals could paddle students. Being well behaved/showing adults respect was expected.
Having said that there have been lots of changes in the U.S. School officials are no longer allowed to physically punish students. If a child shows up in school, a hospital, or other public place with visible scars there is a good chance child services will step in to evaluate the situation in the home.
My mother use to leave us in the car while grocery shopping today that's a crime. There was no such thing as "child proofing" a home. And during the summer months it wasn't uncommon for TV stations to run a public service announcement;
"It's 10 PM. Do you know where your children are?"