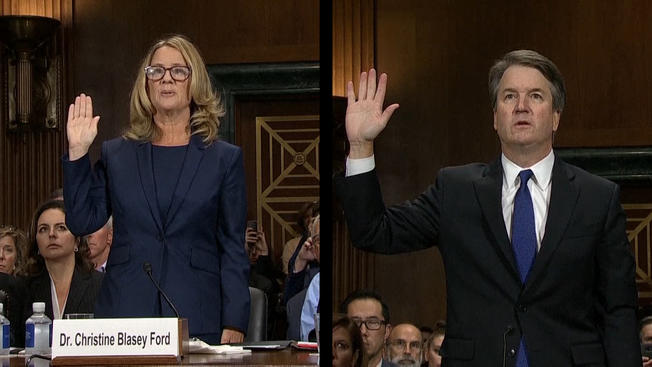 What happened to the "Scales Of Justice"? Innocent until proven guilty... If one were to take a breather and look at evidence or lack of evidence in the case the Dems have brought against Judge Brett Kavanaugh they might just realize Christine Blasey Fords allegations need further investigation. Yes, we have had six investigations on the judge, and a seventh currently underway. However, we know literally nothing about Ford, her childhood, her teen years, her pathway to adulthood. We do know all her social media has been scrubbed. We do know no friend, neighbors, family or coworkers have stepped up to support her character. And yes, there have been many organizations have gathered signatures on petitions to offer support, none of which actually can actually say they know her personally. We also know the people Ford claimed were at the party where the alleges sexual attack took place one of which was a close friend, have given statements that they have no memory of such an event. We also know their statements hold a penalty of a felony for lying.

At the opposite end of the scales, we have the "Judge". He has led an exemplary life in the public eye. He has a long list of accomplishments and more than 65 women that have worked with him have stepped up to support his character. In 36 years he has had no one accuse him of any form of abuse. He has had not one scandal. He has not altered or scrubbed his social media. and has been investigated 6 times by the FBI. He has had a multitude of people step up and support his good character. People that are well acquainted with him. He has a good record of supporting women in the workplace. Many longtime friends as well of previous " girlfriends" from his high school years have given interviews to give us an inside look at his high school years, and his behavior. None of which would make one conclude he would commit sexual abuse.

After considering what facts we have on both sides, the scales tilt in favor of the judge. What has become of innocent until proven guilty? We have a preponderance of the evidence that supports Judge Kavanaugh's character, while we have zero evidence to support Dr. Ford's character. Her past is a mystery, it seems she has no one willing to step up and support her character, not even her husband? It all seems so very odd. Hopefully, the FBI investigation will help bring clarification, and or answers.

My question - Which way do you think the scales are tipping? And would you be personally comfortable in finding Kavanaugh guilty of sexual abuse with what we know so far?