Ahh the tolerant Swiss...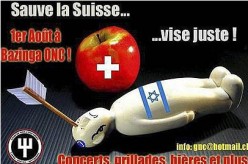 Swiss party ad features Jewish doll

Ads promoting an independence party in Geneva featured a doll of a man wearing a yarmulke with an arrow in its head and an Israeli flag painted on it, Swiss media reported Friday.

According to Swiss reports, a local anti-Semitic and anti-Israel group, the GNC, is behind the ad. Last week, a Swiss politician called for a ban on products made in Israel.

The anti-Semitic ads incurred the wrath of members of the Jewish community in the country. "This is a call for the murder of Jews," said Jonah Gurfinkel. Sabine Simkhovitch-Dreyfus, deputy director of the Jewish community federation said: "A red line has been crossed."

A GNC member claimed the ad was directed against the Israeli government, but Dreyfus rejected his claims saying, "Sadly the arrow on the forehead does not leave a shadow of a doubt." Jewish groups are now considering a lawsuit against the GNC

http://www.ynetnews.com/articles/0,7340 … 24,00.html


(EDITED; I grabbed a new source with a lil more info..)


Their just so funny...

Seems like they picked up their best customers habits after all. I knew the NAZIs taught them something, birds of a feather.