Preferably an island since I know there are many tropical islands a long the coast of Brazil.

Around next year january I'm gonna marry my long-distance love in Ubatuba, Brazil. This is Ubatuba.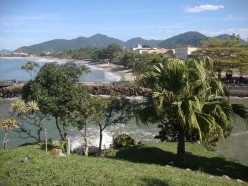 Ubatuba city itself is like paradise as you can see, but I'm looking for a honeymoonisland with privacy, quiet beaches, crystal clear water and the luxury of a private lodge.

Anyone with travel and honeymoon experience around Brazil...Let me know.

Anyone with do's and don'ts for a beachwedding? I'm all ears!