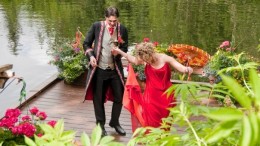 Indeed I do... at my wedding I strutted down the aisle to the Imperial March (Darth Vadar's theme song from Star Wars). But, I guess from the picture you added, you already knew this?

Also, my bride Andrea used the Indiana Jones title song.

We found this to be much more entertaining than using more traditional (slow, romantic) wedding music.

My advice: use something fun!