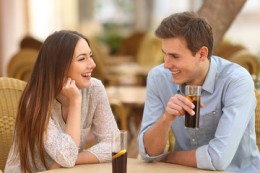 Not much has changed in the actual dating.
Strangers meet each other looking for chemistry and compatibility. Based upon whether it's there or not they decide up going out again.
The only thing that has changed is number of options one has to meet new people. Depending on how long its been since you dating maybe there were no online dating sites/apps, speed dating meetings, singles cruises, or Meetup.com groups for people who share similar hobbies and interests.
Each of us gets to (choose) our own friends, lovers, and spouse.
It's not about (where) you meet but (who) you meet that counts!
You are responsible for having your own "mate selection/screening process".
Don't be afraid to be single!
Too often people "HATE" dating so much that they try to turn every date into a potential exclusive relationship. This keeps them from relaxing, being themselves, and having FUN.
There is a lot of information via the Internet, books, and videos about approaching dating, researching and using online sites...etc Avoid "free" dating sites and apps for better quality.
Ultimately (you) are responsible for choosing who (you) go out with. My advice is take some time to get know someone via email and phone conversations before deciding to invest face to face time with them. Not everyone who sends a company their resume gets to have a face to face interview. Choose wisely!