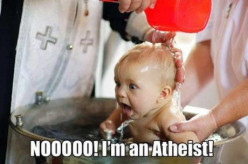 Hi, Atheists can you prove you exhist? How? Through science? What made man and gave him the ability to think? A higher power?
Does this argument not continue in a loop? Why not ask both parties to answer this simple question:
If Jesus, Mohammed, Jehovah, Joseph Smith and Buddha. All said, don't kill your brother, live in peace with each other. And we have killed in their names, argued about which one is right, isnt that worth accepting everyone is right?