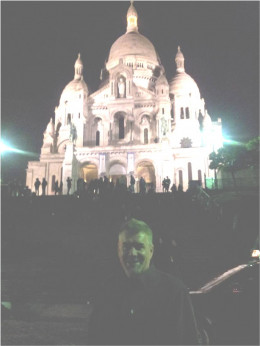 Although geographically he is indeed the first from the Americas and indeed he is the first non-European Pope since the 700s. It is critical to understand that he is foremost a Jesuit (Society of Jesus) and the first Jesuit ever to be elevated to Pope. This defines him significantly more than his place of birth and the fact that he is non-European.
Community life in the Society of Jesus is based on the companionship of Ignatius of Loyola and the graduate students he befriended at the University of Paris. Seven students gathered in a chapel on Montmartre Hill in 1534 (picture above)and vowed to continue their companionship after finishing their degrees. They would live in evangelical poverty and go on a mission to Jerusalem. They called themselves "amigos en el Senor" quite simply, friends in the Lord. The Jesuits have had a significant impact with regards to the history of the United States also and it has all been true to their mission. The Jesuits set off to foreign lands where they zealously toiled as missionaries. In Latin America and North America, they were nicknamed "Black Robes" by Native Americans for their characteristic black garb. The Jesuits are particularly significant when it comes to education. It should be noted that there are currently 3,730 Jesuit-run schools worldwide educate 2.5 million students.
The opening lines of their founding document declares that the Society of Jesus was founded to "strive especially for the propagation and defense of the faith and progress of souls in Christian life and doctrine. However, I believe the most important aspect of our Pope is contained within the vow he took and has upheld for many years. It is quite simply, a vow of Poverty, Chastity and Obedience. In conclusion I believe it is more significant to factor in his Jesuit nature when comparing him to previous Popes (non have been Jesuit)...
Thank God for Pope Francis!