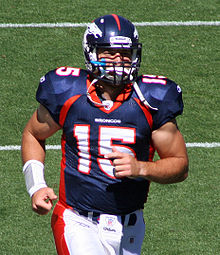 Athletes and writers a like love to say I told you so, and Tebow won't do it so I will, I TOLD YOU SO!!!
Let's just leave all the talk about Brady Quinn alone now, he's not the man for Denver.
For all the talk about what Tim Tebow can't do or should do different, the guy came out after a less than stellar (putting it mildly at best) performance against the Cheifs seven days ago, and put a NFL size whooping on the Pittsburgh Steelers. I know this is a team game, but the guy had two deep ball TD's in the game (one in over-time), another on the ground, and he threw for 316 yards (Jon 3:16 is his favorite passage in the bible, just to top all the mania off). He's the only QB in the league that doubles as a goalline fullback, he's becoming more efficent with the football (zero turnovers last week), and he is really starting to 'pull the trigger'. I know Tom Brady and New England will be a test, but I learned my lesson about doubting what the Broncos can do with Tebow at the helm. What does everyone think? Is the magic over, or does it continue on in Foxborough?