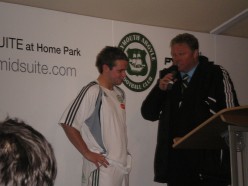 Sometimes we get an opportunity to attend a sports game or a concert in a companies Corporate Box. What has been your best experience?

I have two...my all time favourite is the Port Adelaide Power Suite One facility (in the Australian Football League). The entertainment starts 2 hours before the game with a sit down meal and an address by an injured player and a coach. After the meal you sit in leather seats to watch the game while drinking premium beers and wine. The atmosphere is electric and you have the best seats in the house.

My other favourite is Plymouth Argle facility in League Two of the English Soccer League. Plymouth put on a great pre-game meal with interviews with past players followed by reserved seats in the stands. At half time you return to the facilities and get an update from an assistant coach. After the game you return for the man of the match presentation.